When it comes to designing a baby's nursery, I love a little bit of DIY. There's just something so undeniably special about creating a little something for your little one and baby mobiles are definitely on the top of that list for me, so I'm pretty stoked that Steph from my all time favourite DIY blog, Make and Tell is here today to share a super adorbable fruit baby mobile for your little one's nursery! I just want to gobble it up, don't you?
I've always been drawn to baby mobiles, which is probably a bit strange given I don't have a baby or a nursery. I just love how they can be crafted in so many different ways using all kinds of materials, shapes and colours… you can truly get creative when making them and the possibilities are endless!
I've been on a bit of a fruit kick lately, so I thought I'd try my hand at making a mobile with a bright and summery feel. The end result is totally different to the mobiles you'd usually find in baby stores and being made just with felt and glue, this project also turned out to be very easy on the hip pocket (bonus!).
To make one of your own, gather together the materials below and let's get crafting!
Materials
Felt pieces (if you're making the same fruits as I did, you'll need green, pink, white, orange and yellow felt)
Rattan hoop
A black fabric marker or Sharpie
Scissors
One large, one medium and one small circular object (I used cookie cutters)
White spray paint
Fabric glue
Thread and needle
A small ring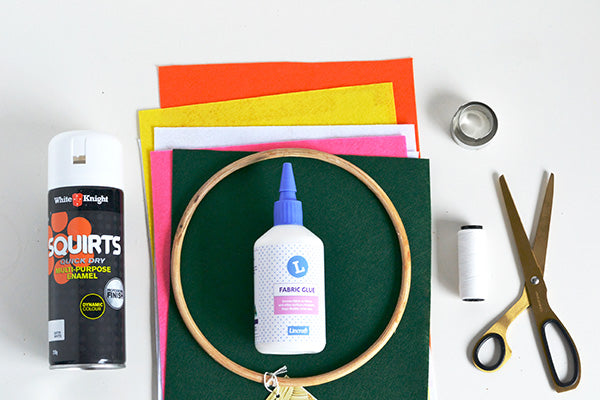 Step 1
To make the fruit slices, you'll need three circular objects to trace around; one large circle, one medium sized circle and one small circle. I used three round cookie cutters, which I found were ideal for the job.
Let's start with the watermelon slices first shall we? For the watermelons, trace a circle onto your green felt using your largest circular object. Then trace a medium sized circle onto your white felt. Lastly, trace a small circle onto your pink felt.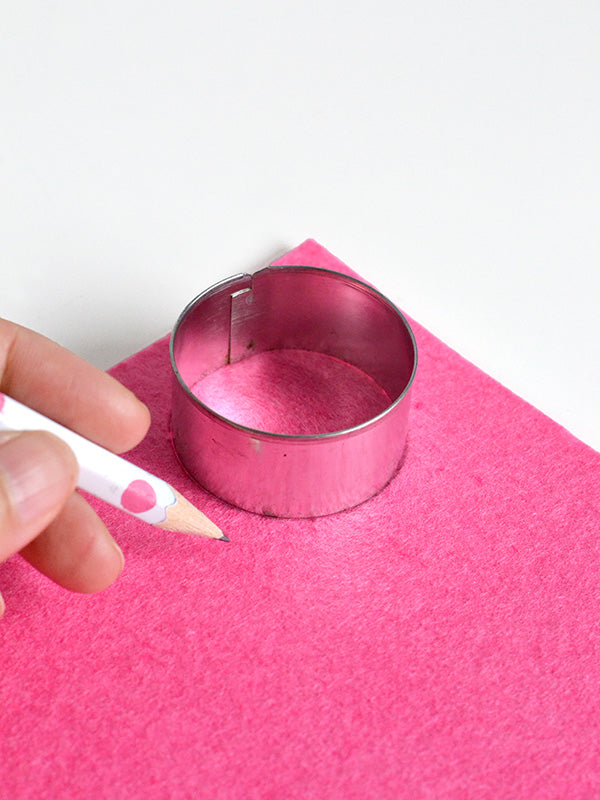 Step 2
Cut out each of the circles you just traced with a pair of scissors.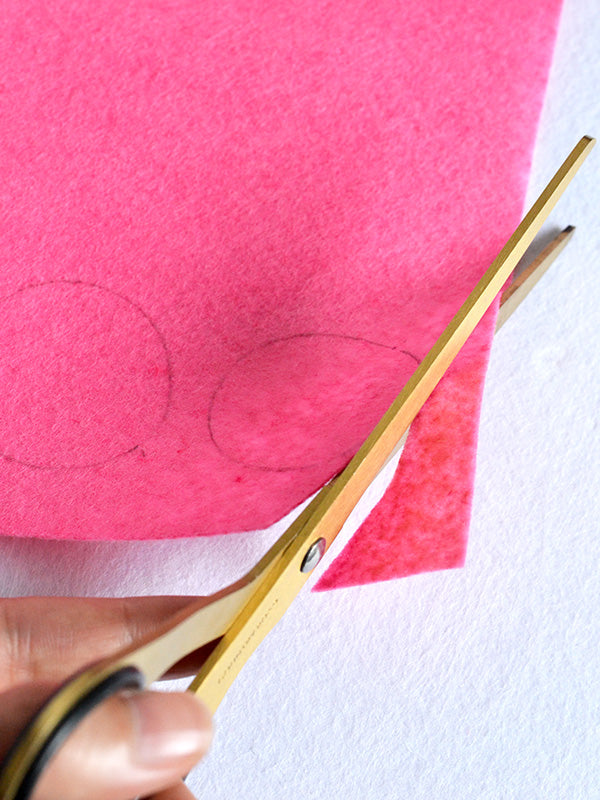 You should end up with circles similar to those in the image below; the green circle will be the largest, the white circle will be medium sized and the pink circle will be the smallest.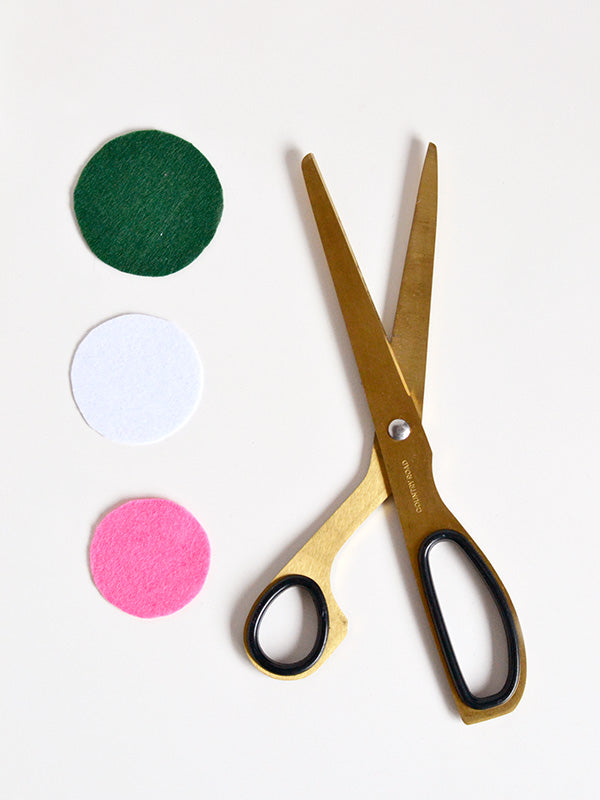 Step 3
Glue your circles together so that they're stacked on top of each other with the green circle at the bottom, the white circle in the middle and the pink circle on the top.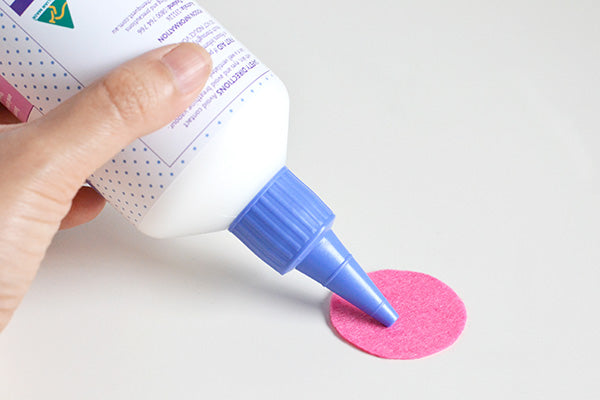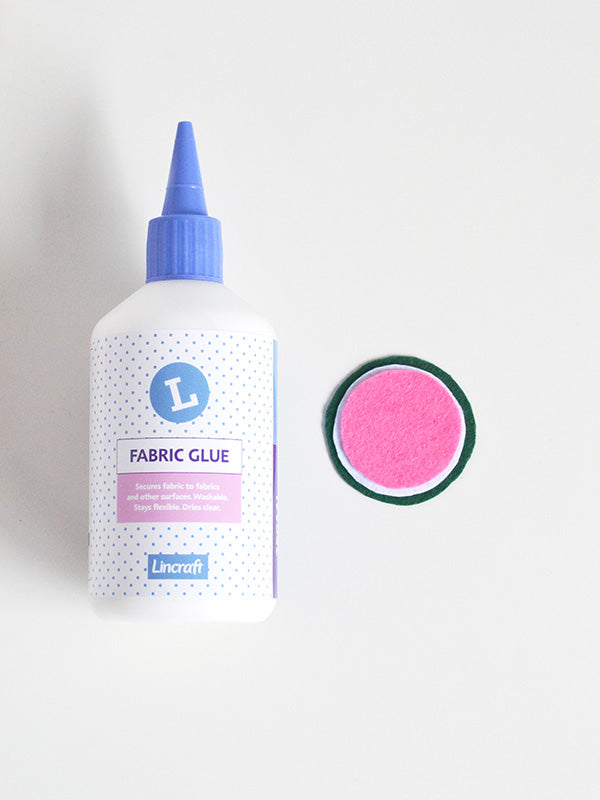 Step 4
Once the glue has dried, cut your watermelon circles in half so that there are two semi-circles or 'watermelon slices'.
Then using a Sharpie, draw little seeds on each slice.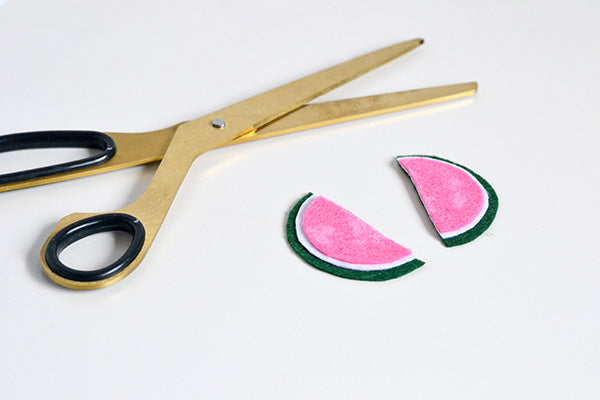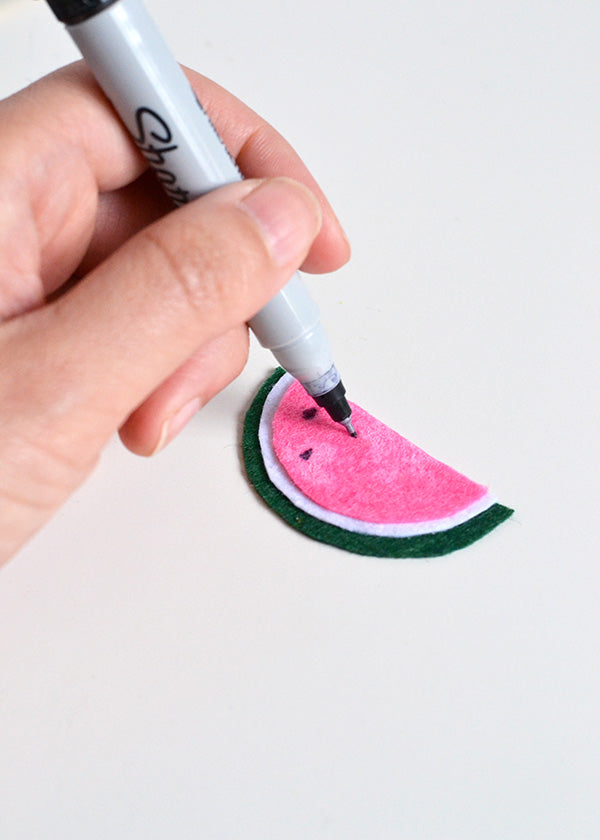 That's your watermelon slices done! Pretty easy yes? Righto then, moving onto the citrus fruits 🙂
Step 5
For the lemons, trace and cut three circles – one large yellow circle, one medium white circle and one small yellow circle.
Step 6
Cut the smallest yellow circle into eighths. The easiest way to do this is to first cut the circle into halves, then quarters, before finally cutting each of the quarters in half again to make eighths.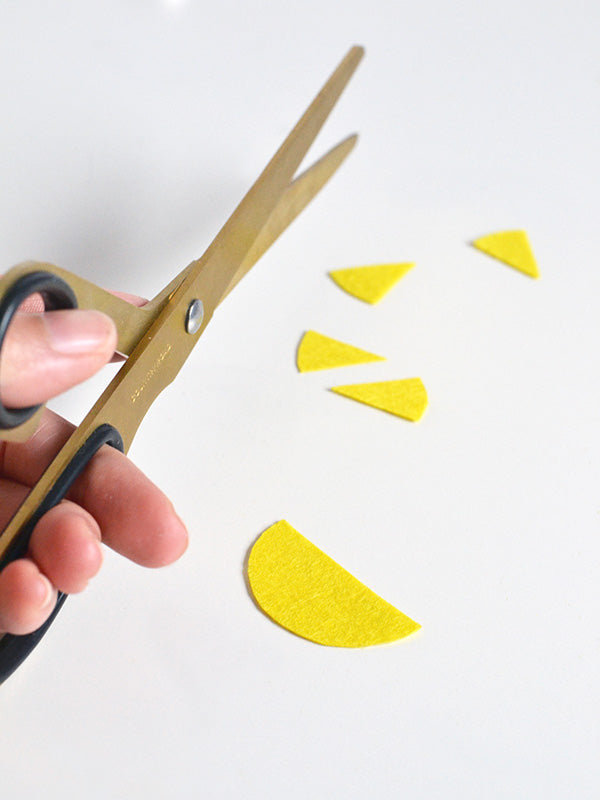 Step 7
Glue all the pieces together, placing the large yellow circle on the bottom of the stack, the white circle in the middle and the little yellow segments on top.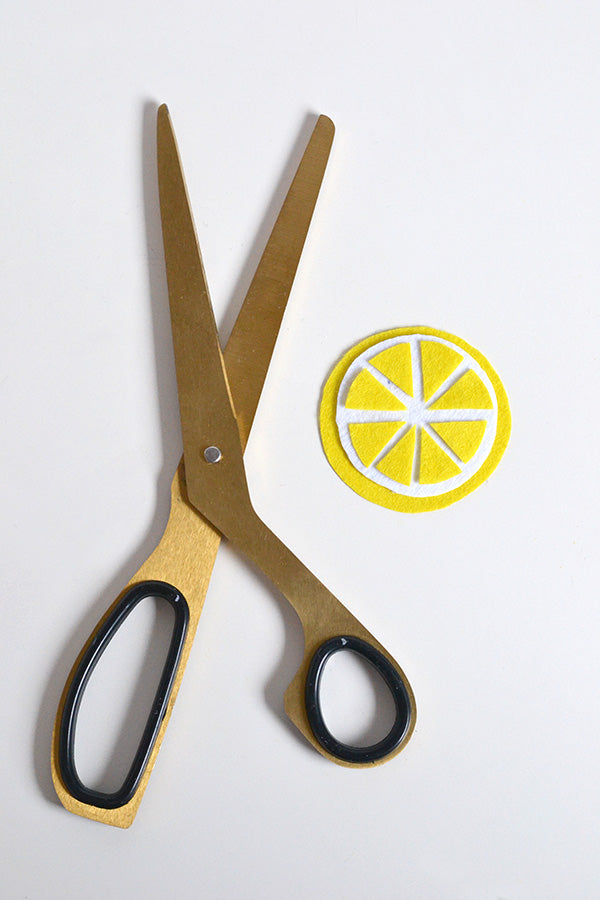 Step 8
Once the glue has dried, cut your lemon in half to create semi-circle 'lemon slices'.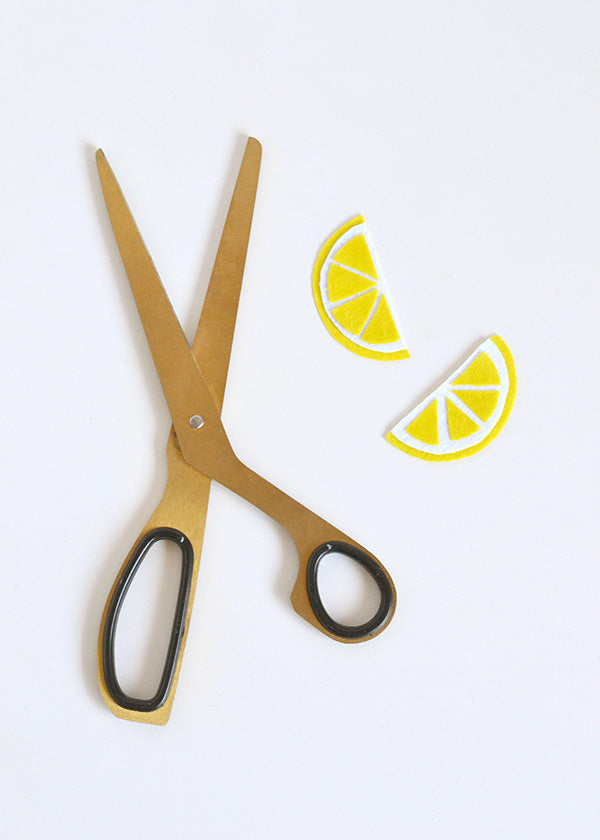 Step 9
Repeat steps 5 to 8 with orange and white felt to create little orange slices. Once your oranges are done, you'll have a whole medley of fruit to decorate your mobile!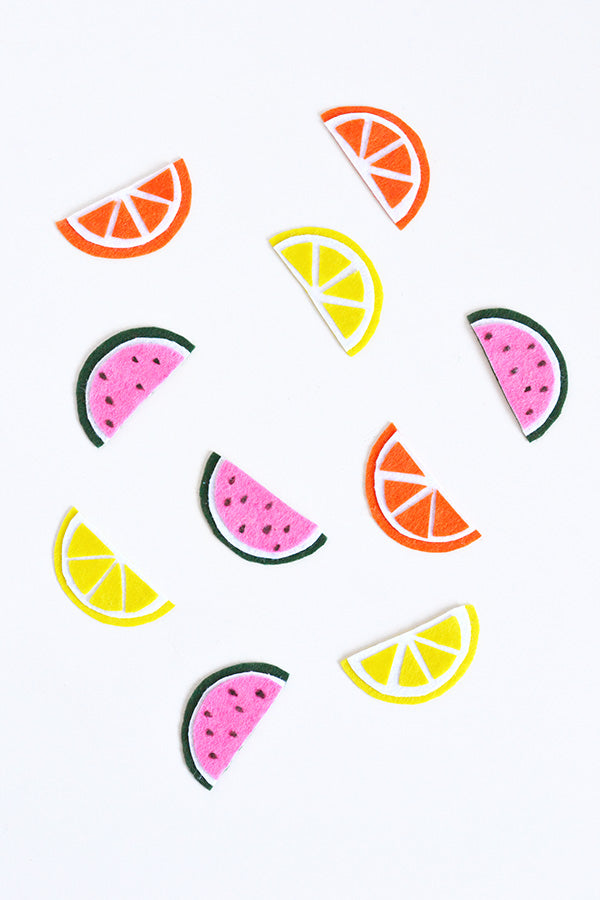 Step 10
Spray paint your rattan hoop white.
nb. This step is entirely optional – it really just depends on how you'd prefer your mobile to look. If you don't like white, you can leave the hoop a natural wood colour or paint it any other colour you like.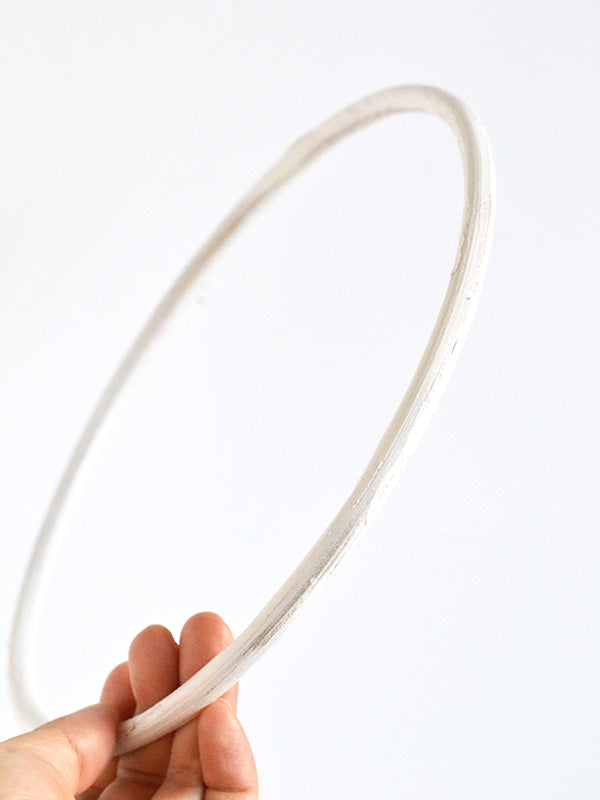 Step 11
Once your hoop is dry, cut some lengths of thread so you can attach your fruit slices to the hoop. Then using a needle, feed one piece of thread through each fruit slice.
Tie a knot to secure the thread in place.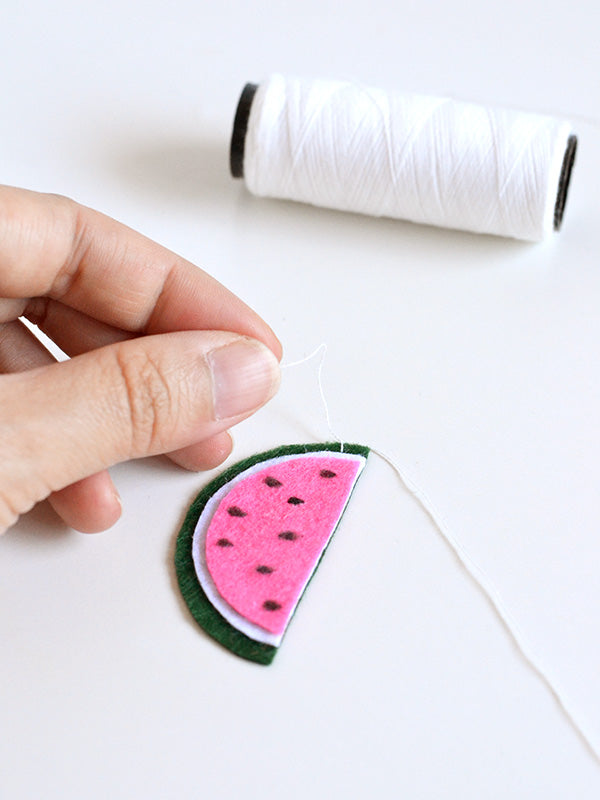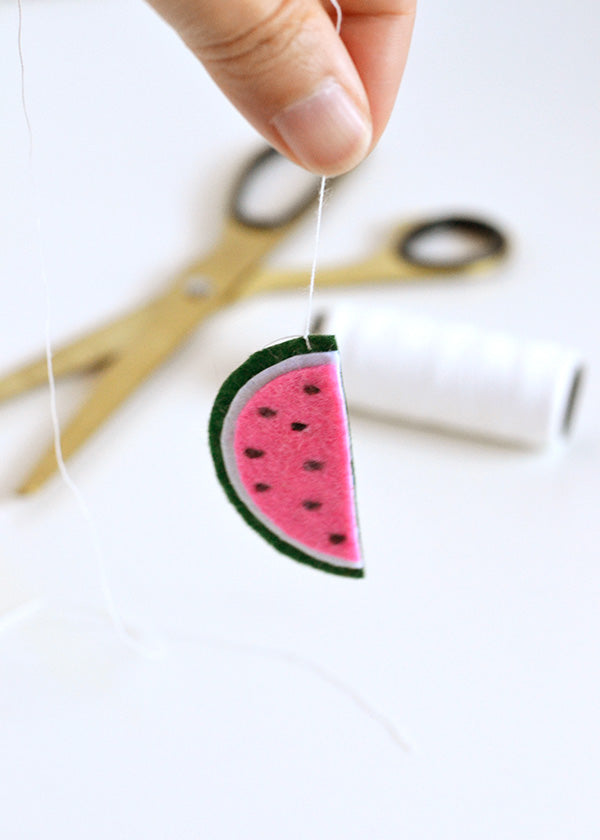 Step 12
Once each fruit slice has a piece of thread attached to it, start tying the fruit to your painted hoop. Try to stagger the lengths at which your fruit slices hang to make your mobile more visually interesting.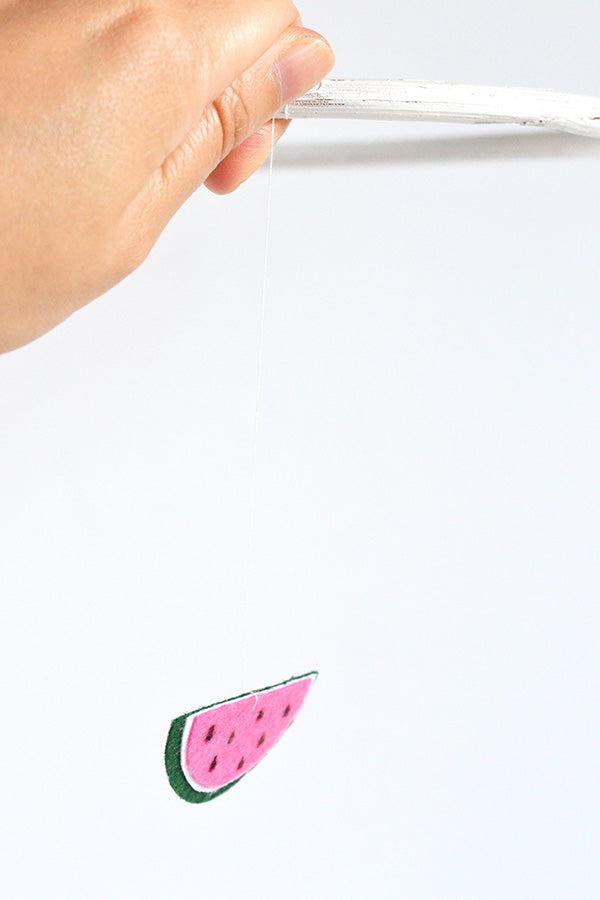 Step 13
Lastly, once all the fruit has been attached, tie four more pieces of thread to your hoop and fasten them to a small ring. This will allow you to hang the mobile from the ceiling.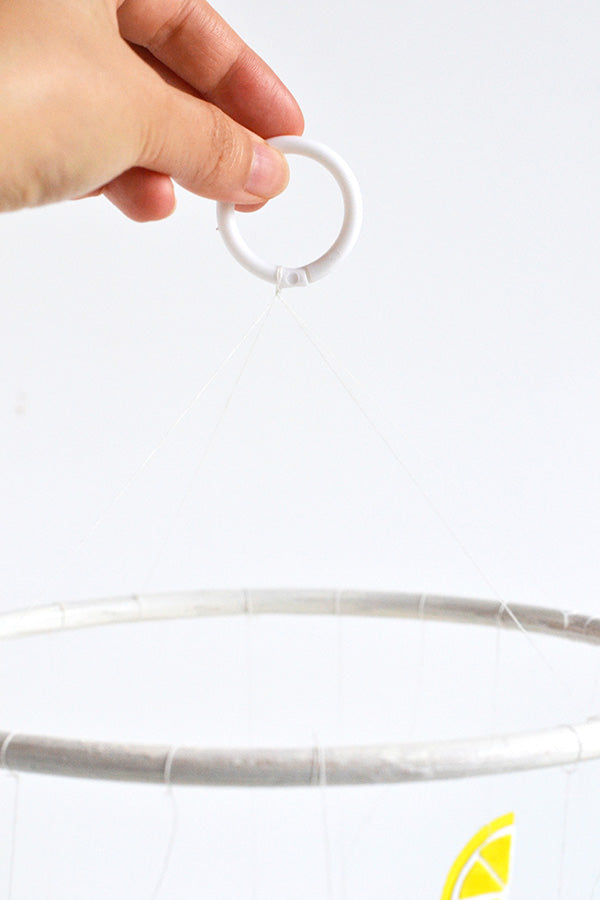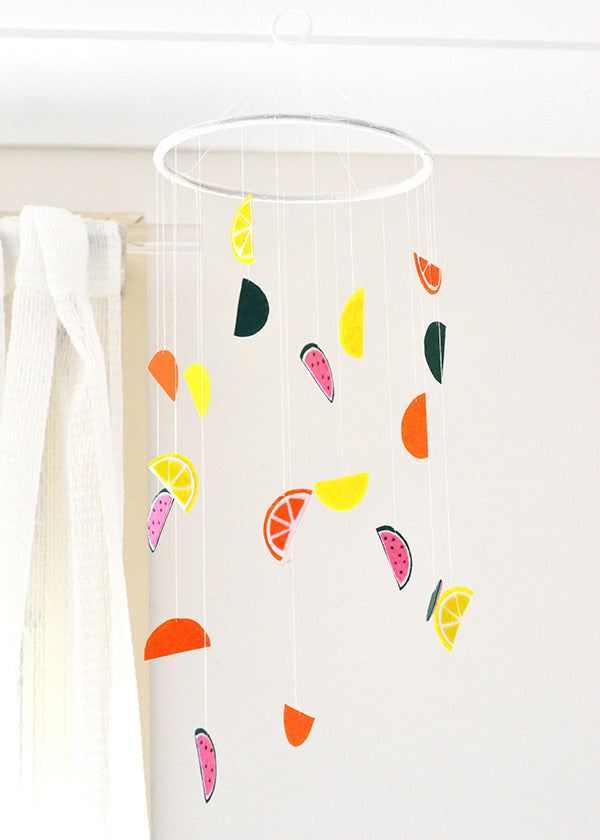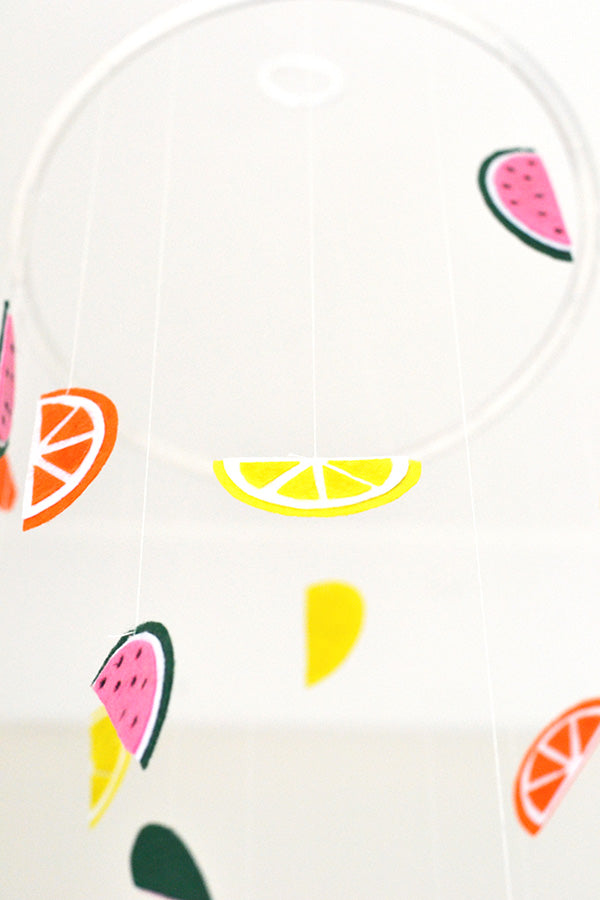 Okay, you've probably realised by now that there's a lot of steps to this tutorial and it does take a bit of time to complete each one. But broken down, the project is totally manageable and actually lots of fun; especially because you can take your time with each part and just enjoy the process of crafting. I traced and cut all my circles while listening to music and then sat in front of the TV while I glued all the bits together. Multitasking at it's best! 😉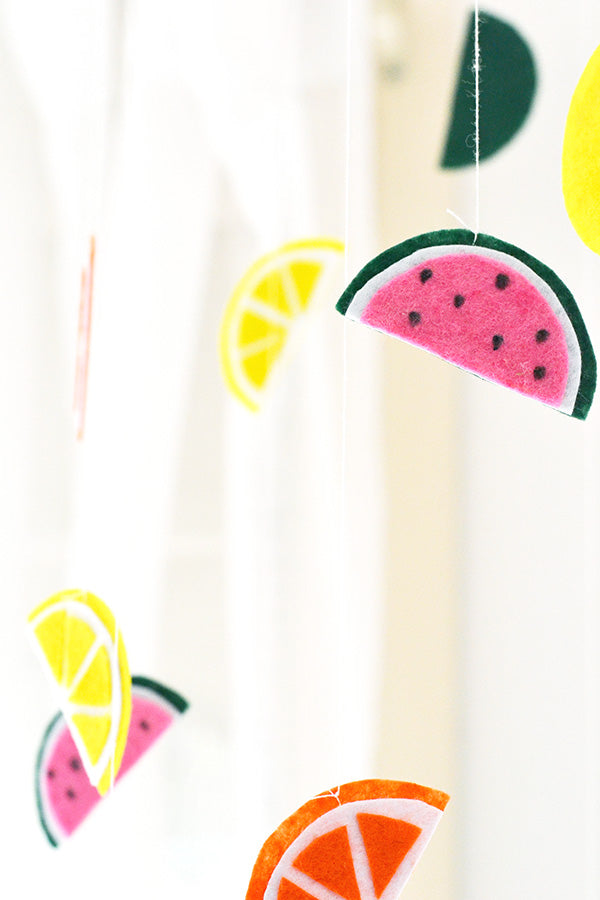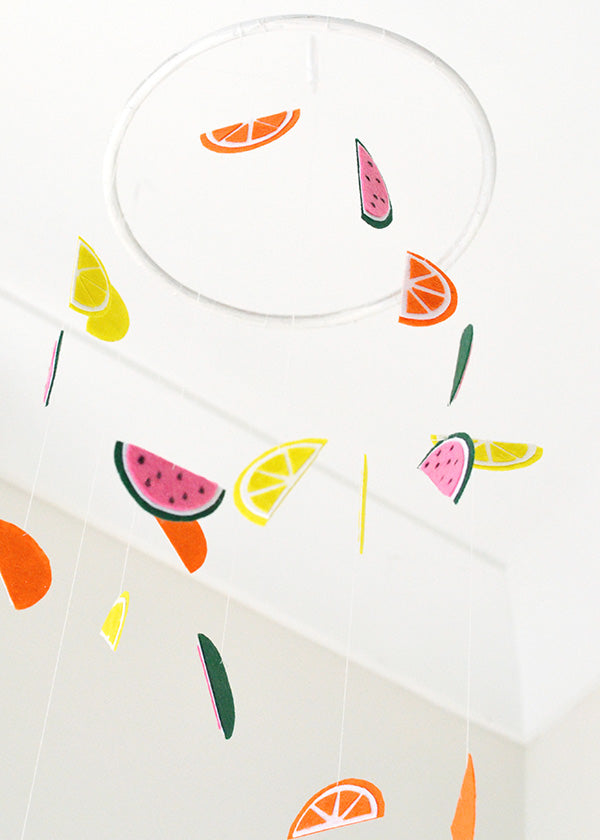 Best of all, I've heard it said that babies' vision can be stimulated by high contrast colour combinations which this mobile has in spades. So your bubba will enjoy it just as much (or even more) than you will! Totally worth the effort right? 🙂
xx Steph